Rajasthan Travel Guide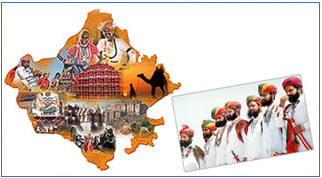 Tours to Rajasthan - Welcome to Rajasthan Ghumo Tours Packages, the beautiful desert state of India. Known for its vibrant and colorful traditions, arts, heritage and culture, Rajasthan has a very rich cultural and historical past.

Rajasthan Ghumo Tours makes it possible for you to witness the magnificent heritage of Rajasthan.
The travel itineraries of Rajasthan Ghumo are especially targeted at the impressive forts and palaces in Rajasthan. The cities of Jaipur, Jodhpur, Udaipur, Jaisalmer and Bikaner are covered by Rajasthan Ghumo Tours. Rajasthan Ghumo offers tours to the majestic forts and palaces that dot the landscape in Rajasthan along with trips to its wildlife sanctuaries and desert safaris. Increasing its ambit, Rajasthan Ghumo also provides specialized travel to North India.

Witness the rich and colorful cultural heritage of Rajasthan in the form of its colorful customs and traditions, music and folk dances, arts and handicrafts and delicious cuisine along with Rajasthan Ghumo Tour Guides.

Contact us for Prior Booking at our 24 Hours desk on the following mobile Nos: +91 96364 12980