About Rajasthan
Rajasthan, the golden glow of desert landscape , the shimmering emerald water surrounding the medieval Lake Palace are as much a part of Rajasthan as the ships of desert who sail majestically amidst the tranquility, color and warmth all around . Rajasthan offers the visitors both quiet moments of relaxation and adventure in the desert state.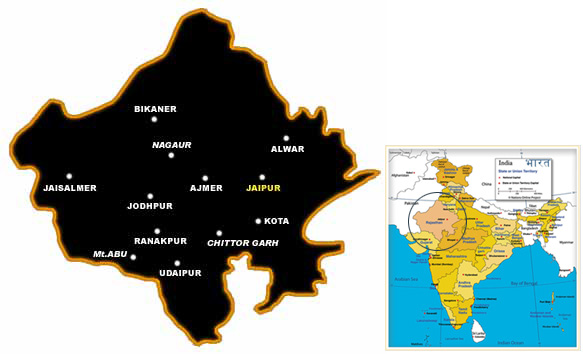 Rajasthan, where majestic forts and spectacular palaces vie for the attention alongside the colorful , rural landscape enhanced by the warmth of h local populace.

Rajasthan, where expressions in art and craft embody the riches present in the surroundings to give the visitors a complete and wholesomepicture of the desert state.

Rajasthan, the land with the most amazing legends of devotion , romance and heroism comes alive , even today. Here is your chance to discover the rich cultural heritage where the relics of a golden past have been carefully preserved.

Rajasthan, where each day is different from the one that has gone by and where each day is uniquely memorable.