About Ranthambore National Park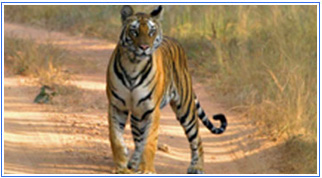 Ranthambore National Park / Tiger Reserve in the Rajasthan state of India, comprises distinct areas with varied conservation history and virtually separated geographically with mere narrow corridors linking them to the core, Ranthambore National Park. These are mainly, the Ranthambore National Park, Keoladeo Sanctuary and Sawai Mansingh Sanctuary.

Ranthambore National Park, before a princely game conserve is the scene where the celebrated Indian Tiger is best seen. Ranthambore Tiger Reserve lies on the junction of Aravali and Vindhyas just 14 Kms from Sawai Madhopur in Eastern Rajasthan. It sprawls over a varying and undulating landscape. The scenery changes dramatically from gentle and steep slopes of the Vindhyas and sharp and conical hills of the Aravali. A tenth century fort also blends amicably with the background. Pure sands of Dhok (Anogeissus pendula) interspersed with grasslands at the plateaus, meadows in valleys and luxuriant foliage around the canals make the jungle. Three big lakes – Padam Talab (meaning Lake), Malik Talab and Raj Bagh – are similar turquoises studded in the vast forest that abounds with aquatic vegetation including duckweeds, lilies and lotus.