About Fatehpur Sikri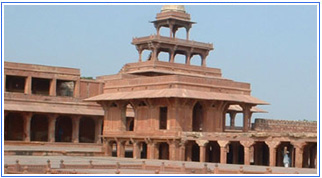 37 kms from Agra is built a city predominantly in Red Sandstone and is called Fatehpur Sikri. This town was built by the Mughal Emperor, Akbar. He had planned this city as his capital but shortage of water compelled him to abandon the city. After this within 20 years, the capital of Mughals was shifted to Lahore.

Fatehpur Sikri was built during 1571 and 1585. Today this ghost city has a population of about 30,000. This deserted city has retained many of the old structures, because of the efforts of the Archaeological department.

Fatehpur Sikri is one of the finest examples of Mughal architectural splendour at its height. Though the city is in ruins, it is a place to visit if one comes to Agra.But in real terms Fatehpur Sikri is a place where one should spend some time. The sunset over the ruins is sight to cherish.