About Pushkar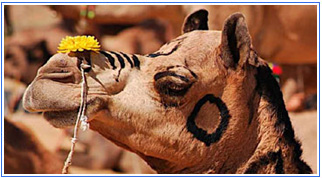 The date of its actual founding is not known, but legend associates Lord Brahma with its creation. It is mentioned that Brahma performed penance here for 60,000 years to have glimpse of Radha Krishna.

The Ramayan mentions Pushkar and says that Vishvamitra performed tapa here. It further says that the Apsara Menaka came to Pushkara to bathe in its sacred waters.

The Mahabharata says that while laying down a programme for Maharaja Yudhishthara's travel, "Maharaja after entering the Jungles of Sind and crossing the small rivers on the way should bathe in Pushkara". And, as per Vaman Purana, Prahlada on his pilgrimage to holy places visited Pushkarayana.