Udaipur Day Tours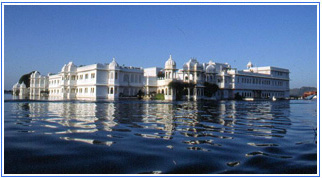 Explore Udaipur through a Guided tour with our expert licensed Local Guide . Pick up from any Hotel / airport / railway station by us ac air-condition car and Guide trained by Ministry of tourism, Government of India. Local English speaking Guide for your Udaipur sightseeing , Our team is German speaking , French speaking, Spanish speaking Guide and Italian speaking tour Guide.
Location : Udaipur
Duration : Full Day / Half Day Tour
Tour starts at : 9 am
| | |
| --- | --- |
| No of Pax | Charges |
| 2 Pax | Rs.4200 |
| 5 Pax | Rs.5400 |
| 6-10 Pax | Rs.6500 |
City Palace : A majestic architectural marvel towering over the lake on a hill surrounded by crenellated walls, it is a conglomeration of courtyards, pavilions, terraces, corridors, rooms and hanging gardens. The main entrance is through the triple arched gate, the 'Tripolia' with eight marble porticos. The maharanas were weighed under the gate in gold, the equivalent amount of which was distributed among the populace.

Jagdish Temple : Built in 1651 A.D. by Maharana Jagat Singh, Considerd to be one of the most loveliest sights of attraction in Udaipur the temple has wonderful architecture. Lord Vishnu is worshipped here. A terrific example of Indo Aryan art this temple is said to be an important Vishnu temple in north India. This Indo-Aryan temple is the largest and the most beautiful temple of Udaipur with noteworthy sculpted images.
Garden of the Maidens (Sahelion ki Bari) : A beautiful garden adorned with luscious pools, colorful fountains and exotic plants reflects the lifestyle of the royal ladies during the ancient times.

Maharana Pratap Memorial : Sightseeing in Udaipur is incomplete without visiting the Maharana Pratap memorial. Here lies a bronze statuette of the courageous king on the back of his ever faithful horse known as Chetak. People visit this place to pay homage to the bravery of this great ruler.
After Lunch full day tour will proceed to...

Fateh Sagar : A beautiful lake, overlooked by a number of hills on the three sides and the Pratap Memorial on the north was built by Maharana Fateh Singh. In the middle of the lake is Nehru Park – a lovely garden island with a boat shaped café accessible by an enjoyable boat ride.

Pichchola Lake : The picturesque lake that entranced Maharaja Udai Singh. It was later enlarged by the founder. The lake is surrounded by hills, palaces, temples bathing ghats and embankments. Two island palaces, Jag Mandir and Jag Niwas (Lake Palace) on the lake are of breathtaking magnificence. The serene lake waters are a pleasure to watch out for.

Bharatiya Lok Kala Museum : The interesting collection exhibited by this Indian folk arts museum includes folk dresses, ornaments, puppets, masks, dolls, folk musical instruments, folk deities and paintings. Saheliyon-ki-Bari (Garden of the maids of Honour): This small ornamental garden was a popular relaxing spot where royal ladies came for a stroll and hence the name. The garden has many fountains in its four delightful pools, chiselled kiosks and marble elephants.

Monsoon Palace (Sajjan Garh) : This palace is unique for the purpose for which it was constructed. The palace was built by Sajjan Singh to keep a watch over the monsoon clouds in the surrounding region. Later it was used as a hunting retreat for the royal family. Initially the king had intended to establish a nine storied astronomical center at this spot but his sudden demise shattered his plans.

Gulab Bagh : A spectacular rose Garden laid out by Maharana Sajjan Singh. A library in the garden has a rare collection of ancient handwritten manuscripts and books.